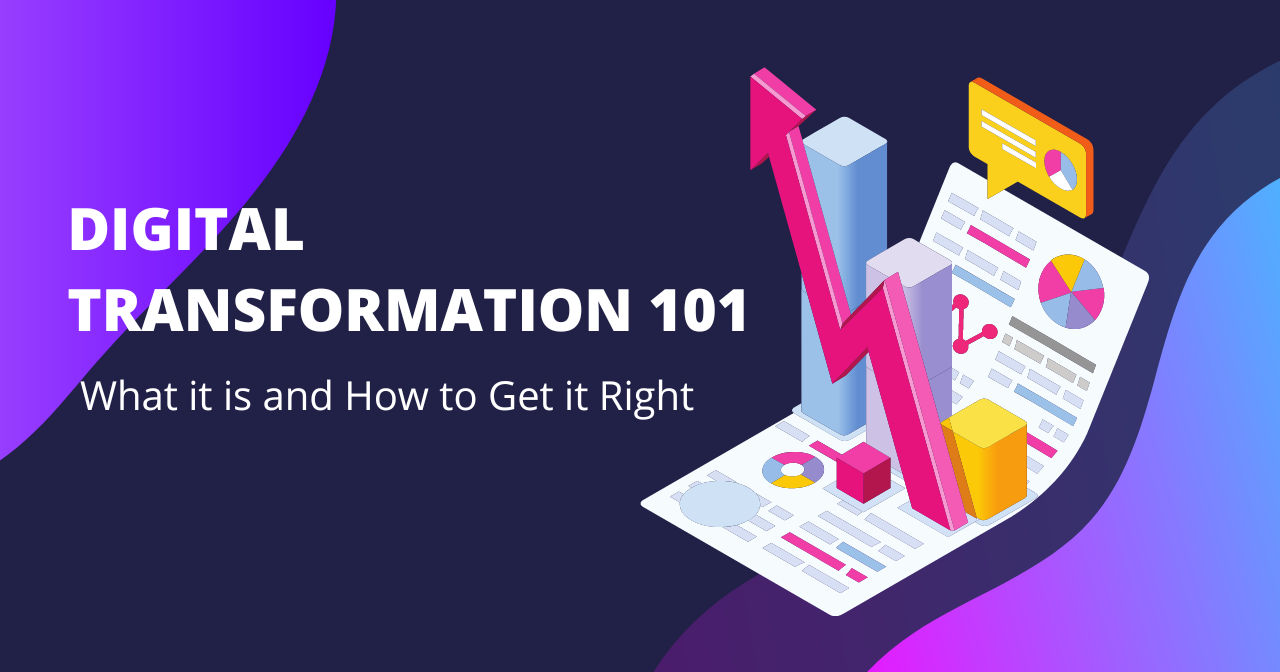 31/10/2022
This rapid technological development marks the beginning of the fourth industrial revolution, as new technologies emerge and old ones are disrupted.  People talk a lot about digital transformation based on its importance in greater profitability and improved efficiency. However, the term is used vaguely to understand.
This blog post will help you understand what digital transformation is and how you can get it right to make the most benefit out of it.
What is Digital Transformation?
The term "digital transformation" refers to changing a business using electronic systems and software. What sort of change is this, exactly?
The process of adapting organizational practices, goods, and models to make the most of the possibilities offered by digital technology. 
In most cases, we're looking to find new ways to make money, make less of an impact on the environment, or increase efficiency. Transforming processes to be more digitally efficient is what we mean when we talk about digital transformation.
How does one Properly Implement Digital Transformation?
Following are seven ways you can implement digital transformation successfully; 
Identify which digital transformation will benefit your organization:

Think about any specific challenges your business is facing and complement that with some new technique. 

Get the context right:

When you think about digital transformation, consider how it will benefit your customers. The ideas should not be generated from organizational silos. 

Think about the customers:

Reach out to your customers and fully understand what they want. Ensure senior involvement while interacting with customers. 

Consider fixing technology basics first:

Before introducing a big digital change in your organization, ensure that the basics of technology are fixed first. 

Prioritize initiatives:

Prioritize the initiatives based on value, need, time to impact, and effort needed for the desired outcomes. 

Define a roadmap:

Define a roadmap for working on initiatives. It will help you understand which projects are interdependent and can run in parallel, and also the type of skills and resources required to work on the project. 

Define outcomes:

Identify how each of the outcomes is contributing to the business's success. 
Why is it Essential to Convert into the Digital Age?
Customers stop patronizing businesses that cannot stay up with modern trends in favour of a brand that can give a linked experience across various digital platforms.
Here are some proven advantages of digital transformation;
Increased productivity:

  The adoption of digital transformation will result in increased productivity due to the automation and simplification of existing procedures and increased speed and scalability.

Enhanced ability to make decisions:

  You will be able to make the appropriate judgments more quickly if you do real-time analysis in a collaborative and predictive way.

Improved reach:

  You are no longer a 9 to 5 corporation now that you have access to cloud computing and mobile devices. You are open 24/7. You are rethinking the way that you run your business. Your staff members have everything they need to be productive, regardless of location. You are improving your customers' user experience in ways that have never been seen before, thanks to sophisticated bots and up-to-date user interface channels like WhatsApp.

Increased overall consumer satisfaction: 

You can make a more significant number of consumers happy in a shorter time because you promote customized client interaction in a scalable and automated method. This results in a greater level of brand loyalty.

Increased potential for profit:

When all of this comes together, it eventually leads to an increase in profitability.
Bottom Line
Most studies in this field agree that digital transformation is a pressing concern that will grow in importance after the pandemic. In the years to come, businesses are expected to increase their spending on cutting-edge digital resources.
The majority of companies are only starting the process of transforming their business. But they recognize that creating and implementing a digital transformation plan is critical to their success.
Categories
Completely synergize resource is taxing relationships via premier are man niche markets. Professionally cultivate one to one customer.
Categories