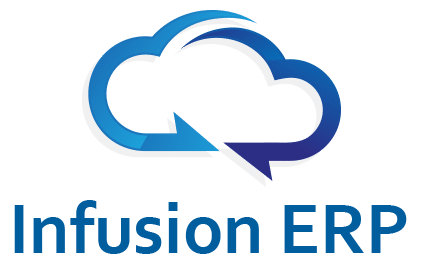 14/04/2022
What is ERP?
ERP stands for enterprise resource planning, the most basic definition of ERP is to consider all of a company's main business processes: finance, HR, production, supply chain, services, procurement, and so on. ERP, at its most basic level, aids in the effective management of all of these processes in a single system. It's also known as the organization's record-keeping system.
What are the components of ERP?
Here are the most important components an ERP possesses.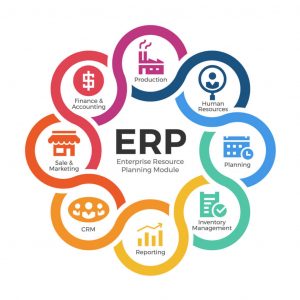 It maintains track of all your financial data, including receivables, payables, general ledger, expenses, budgets, and projections. It aids in the management of cash flow, the reduction of expenditures, the increase of earnings, and the timely payment of all invoices. The necessity for a single system to manage all financial transactions and accounting for many business units or product lines is becoming increasingly critical as the business becomes more complicated.
It's a piece of software that keeps track of all personal responsibilities for supervisors and employees. Employees are vital to every business; without them, the company would cease to exist. This component is in charge of automating employee payments, paying taxes, creating performance reports, tracking attendance, and promotions, and determining the working hours and holiday hours of the personnel.
Manufacturing and logistics:
It consists of a group of candidates who will be responsible for planning, production, accepting orders, and delivering items to clients. It offers you a glimpse of the desired and accomplished levels which is extremely crucial to assess whether you are accomplishing your objectives or not. It offers a stock report as well as profitable production ideas for the firm. Production planning, order entry and processing, and warehouse management are all covered.
Supply Chain Management (SCM):
A supply chain management system is a network of facilities that handle the acquisition of commodities, their transformation into intermediate and final goods, and their distribution to customers. The planning, production, marketing, distribution, and buying companies in a supply chain all operate separately.
Customer Relationship Management (CRM):
This component communicates with consumers by analyzing massive amounts of data via data analysis. They focus on the target audience and what is beneficial to them. The component collects client information from a variety of sources. As a result, CRM keeps meticulous records of general purchase history, personal data, and even purchasing habits. It obtains an advantage by keeping track of the customer's purchasing history and recommending more products.
Why use ERP?
There are several reasons to use ERP. The relevance of enterprise resource planning (ERP) systems should be evaluated by any firm for the following eight reasons:
ERP systems are still a significant investment, despite the fact that several suppliers have provided flexible pricing in recent years. For many people, the program's hefty costs alone make it seem unlikely that it will save your organization any money. . However, once you get past the sticker shock, it's simpler to understand how ERP may deliver a great return on investment. Your employees will be able to access all of the resources they need for their jobs from one centralized system, from product development to accounts payable You may help your staff make better use of their time by merging systems. Users don't have to scour various systems for information while using ERP.
ERP software differs widely in terms of functionality based on the package you're using, but in general, all systems increase cooperation in some way. A key feature that characterizes an ERP is its centralized database. You provide your firm with a single source of truth to work from with this database. This avoids any mistakes caused by working with inaccurate data, lowering expenses even more.
Provides Better Analytics
With a centralized collection of data, you may improve your analytics and reporting. Because it stores and preserves all of the data that users enter, an ERP is a good business intelligence tool. ERP software makes it quicker and faster for your team to create numerous reports as long as your provider delivers robust capabilities. Without an ERP, reports that may take days to study and compile take only minutes.
Difficult jobs are unavoidable using old approaches. Employees used to spend hours on tasks like preparing reports, maintaining inventory levels, managing timesheets, and processing orders. These habits not only waste time but also lower employee morale and put you at risk for human mistakes. Even the greatest employees are going to make a mistake after the hundredth hour of inputting the same line of data into several forms. An ERP can automate your most time-consuming processes if you pick the correct system.
Makes your customers happy
Customer management has never been more vital. People are increasingly looking to the internet for guidance on what to dress, what to eat, and how to conduct their lives in the digital era. And, with 84% of consumers believing internet reviews as much as a friend, past customer feedback is more important than ever. Providing client-centered goods and services is the greatest strategy to boost customer happiness. ERP may accomplish this in a number of ways. To begin, most ERP systems include or can easily be integrated with a customer relationship management (CRM) solution. Your CRM may access data from several company processes thanks to an ERP.
Manages risks and simplifies compliance
It may be tough to keep track of all the varied rules imposed on your business when your company grows and does business in multiple nations. Even tiny organizations are required to follow a myriad of environmental, information security, and human resources regulations. Additionally, ERP frequently includes risk management capabilities. Because there are fewer chances for errors during accounting, this solution's increased dependability and accuracy improve overall financial management.
Improves Inventory Monitoring
Tracking and managing increased inventory levels is a big difficulty for developing businesses. ERP employs barcoding, RFID tags, and serial numbers to maintain track of your inventory at every stage of the supply chain.. These technologies assist you in keeping track of inventory levels across many warehouses, as well as which goods are in transit and which are on the shelves and ready for customers. The enhanced warehouse visibility substantially improves the pick, pack, and ship process, eliminating any guessing. Inventory tracking helps with reporting as well, as tracking technology gives more precise figures. Users may create custom KPIs to identify which items move the fastest, indicating more demand, and which products have the highest carrying costs. Warehouse managers may acquire real-time data on their inventory thanks to ERP's increased precision, allowing them to make more precise business choices.
Improves Production Planning and Resource Management
In addition to inventory management, ERP also manages production. ERP gives visibility into all production processes, including shop floor activities. This allows users to maximize capacity by optimizing production schedules, equipment, and manpower.
ERP also takes care of your Bill of Materials (BOM) and fixed assets. Users may simply generate and amend BOMs using this program, as well as maintain track of all past modifications fixed asset management allows customers to plan equipment repair ahead of time to reduce unforeseen downtime, resulting in increased profitability and stronger supply chain relationships.
Start your journey with ERP today and ley tour business standout!
Categories
Completely synergize resource is taxing relationships via premier are man niche markets. Professionally cultivate one to one customer.
Categories