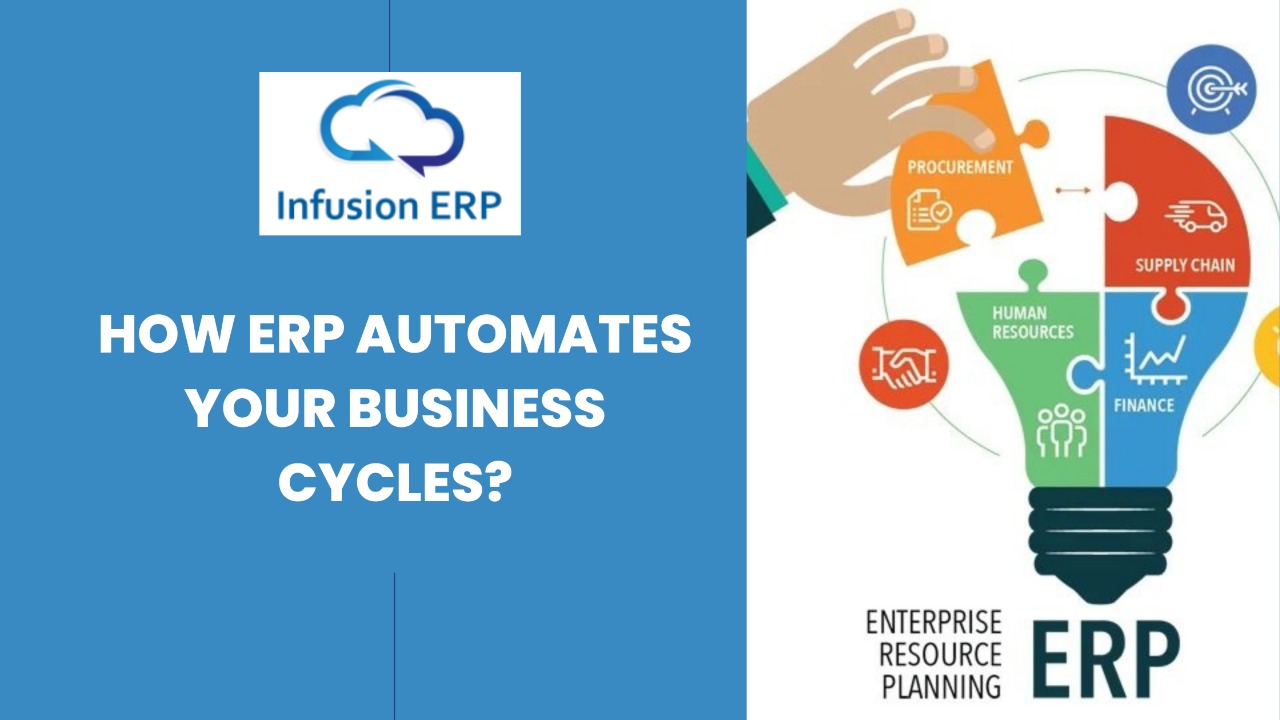 12/06/2022
As we all know that ERP is playing a vital role in automating business processes. It improves accuracy and saves time and money by streamlining corporate procedures Employees and their teams are so enabled to achieve more and perform better. ERP also centralizes all data generated by your business and makes it more accessible to important stakeholders and decision-makers. Not only that but there are several more outstanding characteristics of ERP automate can entirely business tasks, resulting in optimal performance and efficiency.
The following features demonstrate how ERP automate business activities!
It automates manual activities!
It is obvious that time is money and time is extremely valuable in business. Manual activities not only take a long time, but they are also prone to mistakes. Businesses waste a lot of time and efficiency when operations are carried out manually, thus ERP automate is a better option since it can automate corporate activities. It lowers manual labor, saves time, and increases efficiency. ERP software provides automation, allowing businesses to cut costs, save time, and expand their bottom line. Companies, for example, may manage inventory levels across various sites using ERP software – formerly a difficult human effort that resulted in crossed wires and misunderstanding, automation makes this process relatively straightforward. As a consequence, operations managers may more proactively cut excesses and respond to shortages.
It automated inventory processes!
An inventory management-optimized ERP automate system is a key tasks to ensure that stock purchasing, sorting, and transferring are all in sync. The system also assists in maintaining ideal stock levels by combining the inventory requirements of personnel, customers, and suppliers.
ERP software, in addition to inventory management, may provide vital insights and analytics needed to support more accurate demand forecasts and supply chain management. When data from your internal departments (for example, customer service, marketing, and sales) is centralized, executives may more readily recognize consumer patterns and estimate future demands.
It automates and standardizes business processes!
Another major contribution of ERP automate of a business processes is standardizing business activities. It can help businesses to identify the best possible way to perform and implement multiple processes which leads to a reduction of errors and improved efficiency. Process standardization is an ideal way to have improved recommendations in order to achieve the business goals beyond expectations and ERP enables businesses to do. its goal is to incorporate best practices, consistency, and automation into production processes rather than to compel businesses to adopt unfamiliar techniques.
It automates communication processes!
An ERP solution decreases or eliminates the need for manual data input, emails, and phone calls, which not only consume time but can result in erroneous or contradicting data and subsequent difficulties. ERP automate systems synchronize precise real-time data throughout all operational units, ensuring that every employee has rapid access to the most recent information and forms. Without optimized inter-departmental communication mechanisms in place, there is a considerable risk of error or inaccuracy as data is manually supplied or transmitted through email, phone, text, or in person.
An ERP system acts as a central repository for the majority of your company's key data, allowing authorized users to rapidly search, access, and save the information they require. This not only ensures data correctness but also increases productivity. One of the most significant advantages of ERP is that data is continually synchronized in real-time, ensuring that everyone has access to the most relevant and up-to-date files. This helps to avoid the dissemination of erroneous business information and lowers the risk of data loss. Companies risk rising costs, tarnishing their reputation, and reducing their sales potential whenever such a misunderstanding happens.
It streamlines ERP complex Business Operations!
ERP solutions are a collection of practical and strong company management technologies that aid in the organization and administration of critical business components. Inventory, product planning, production, payroll, buying, HR, and customer service are just a few examples. Businesses with many office locations might profit greatly from ERP. ERP simplifies corporate operations by linking all business activities into a unified, seamless networker software aids in the management of all critical company processes. Manufacturing, supply chain, finance/accounting, distribution, and so on are all included. ERP automate system adoption is required to simplify corporate procedures.
Nonetheless, numerous firms use entry-level enterprise solutions to manage diverse company tasks. Excel sheets, for example, are useful for dealing with inventory procedures, accounting software is useful for accounting issues, and so on. However, the current business environment is quite difficult. Organizations require modern ERP systems to keep up with the pace. Legacy systems have a propensity to become slow as the volume of business data increases. This might cause productivity issues, which will undoubtedly impede growth.
It provides essential business insights and projections!
Human brains can only process so much information, but machines can do so much more with vast volumes of data. ERP solutions include data analytics capabilities, dashboard visuals for rapid knowledge of how a business unit is operating, and sophisticated demand forecasting and inventory management tools that may significantly enhance cash flow. Robust tracking and reporting technologies enable your top executives and managers to understand business performance—and their personal performance—down to the granular level, as well as convey what is most important across your organization.
It Identify marketing and e-commerce possibilities!
With all of your company data organized in a system equipped with AI technologies, your executives will be able to swiftly find consumer, market, and industry patterns that will lead to better decision-making. Marketing managers can immediately identify consumer online browsing and purchase patterns and enhance your website experience for customers if you have an integrated e-commerce platform. An integrated e-commerce module guarantees that your website consistently meets or exceeds customer expectations, even when your top rivals raise the bar, and it eliminates the need for market research.
Conclusion:
ERP is the greatest option for all of your company needs. If you want a flexible and automated business cycle, you must consider the finest ERP that fits your needs the most. Infusion ERP is also there to assist you; explore Infusion ERP for the greatest company automation services.
Categories
Completely synergize resource is taxing relationships via premier are man niche markets. Professionally cultivate one to one customer.
Categories