14/05/2022
ERP software is a technology that organizes a company's information database, automates common operations, and streamlines business processes. The ultimate purpose of adopting this application is to improve operations and free up time for employees to focus on more instinctive activities. These goals can help the organization boost revenue margins and efficiency while also enhancing communication. ERP software is unusual in that it affects many, if not all, elements of an organization. It's a complete solution that includes the following features: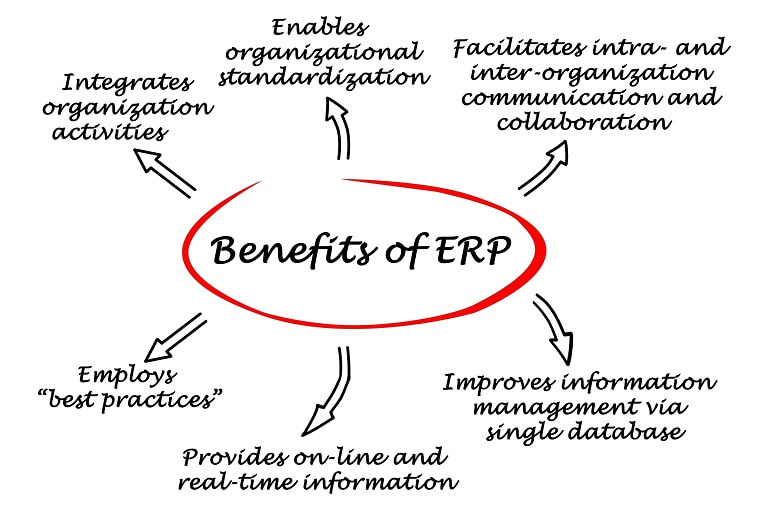 Integration
Digitalization
Data Evaluation
Documentation
Financial Administration
Customer Relationship Management (CRM)
Marketing and Sales
Human Resources (HR)
Managing the Supply Chain (SCM)
Manufacturing
Why ERP is Important?
 An ERP is very important because it connects all aspects of the company, allowing for better communication and data collection. Customers, suppliers, carriers, financial institutions, and other partners outside the corporation may all benefit from today's ERP systems, which provide cooperation and digital solutions.
Benefits of ERP:
ERP has numerous advantages. The following are some of the most important advantages of ERP.
It increases efficiency because one of the most important benefits of ERP is that it helps businesses to automate manual and regular tasks. Employees may now focus on more revenue-generating duties while also standardizing common business procedures. Improved demand forecasting, fewer manufacturing bottlenecks, shorter lead times, and a more transparent and responsive supply chain are all benefits of greater efficiency, not to mention business growth and the capacity to remain ahead of the competition.
It enhances productivity while saving time. When time-consuming processes consume valuable company time, production might be delayed, affecting your business and even the customer service experience. Users have more time to focus on other time-sensitive, pressing projects and chores that may genuinely demand more of your attention and time since redundant procedures have been automated. Users will be able to work more efficiently because the solution was created with simplicity of use in mind. ERP was created with the convenience of use in mind, as well as providing a respite from time-consuming duties, allowing you to focus on other things.
It reduces costs because it's a worthwhile investment that will save you money over time. Instead of manually entering data, this tool allows you to enter it once and have it automatically sent to other departments. You may also automate repetitive processes like report writing, invoice distribution, and employee payroll, freeing your time for more important duties.
It improves collaboration by connecting teams. Every authorized employee gets on-demand access to operational data with an ERP system, allowing them to grasp all of the company's moving pieces and their roles. Reduced silos and real-time project updates boost productivity, resulting in smoother processes and cost savings. Collaboration capabilities extend beyond an organization's four walls to engage with important trading partners and advance commercial advantages.
It provides real-time data and enhanced reporting. ERP is a strong data hub, which is one of its main advantages. An ERP system helps you to collect, store, and analyses data from all of your activities in one place, giving you a single source of truth and the visibility you need to operate more strategically. Because of the consolidated data, a company may access real-time data and develop more valuable reports. Without various spreadsheets or data sources, one can compare functions across departments and monitor company variables like inventory levels on a daily basis to better regulate capital. Data is the new gold, and technological advancements are integrating data with smart AI systems for enhanced analytics reporting, potentially allowing for on-demand insights via voice requests.
It provides you with Integrated Compliance. Other advantages are meaningless if your company fails to comply with regulations. ERP systems provide the added benefit of helping businesses keep track of industry rules and compliance changes, which are often forgotten. This helps firms to remain up to date on applicable regulations, rules, and requirements.
It also provides Cloud Availability. Cloud ERP has several advantages, including decreased IT workload, dedicated data security, and mobility. When you choose a cloud-hosted ERP solution, you may access the system from anywhere, at any time, on any device as long as you have an internet connection
It ensures better customer service. Customer information is one type of data for which ERP acts as a central hub. Multiple departments may easily access and cooperate on client needs with consolidated customer data, resulting in speedier response times and enhanced delivery and order accuracy. Instead of managing spreadsheets, sales personnel may focus on creating client connections, and marketers can construct customer-focused campaigns.
It ensures data reliability. ERP delivers dependable data that can be accessible from a variety of locations (if deployed on the cloud) and on a variety of devices, including tablets and smartphones. ERP enhances data quality and consistency by allowing real-time updates. Users may use this to confirm that all data and analytics are safe to use and free of mistakes. Firewalls and built-in protection resources can provide extra security for ERP user data.
Conclusion:
There are numerous advantages to using an ERP for your organization since ERP software remains a critical component in establishing a successful enterprise. The advantages of deploying an ERP system in your firm speak for themselves, providing a competitive and financial advantage while also enhancing productivity, cooperation, and communication. With diligent study, your company may prevent possible problems and start reaping the benefits right away. You can reduce your overhead by choosing the right ERP that suits your requirements and business considerations.
You must be able to keep up with the ever-changing technical developments in the face of more tough corporate rivalry. Using manual or outdated techniques to run your business can only leave you behind.The software aids in the simplification of numerous complicated activities, as well as the improvement of efficiency, cost reduction, and corporate productivity. It may be used by enterprises of various kinds, including small, medium, and big ones.
We will conclude by using a famous quotation about ERP by ERP Demystified, Alexis Leon.
"ERP is first an attitude; second, a process, and only third, a set of tools."
Categories
Completely synergize resource is taxing relationships via premier are man niche markets. Professionally cultivate one to one customer.
Categories