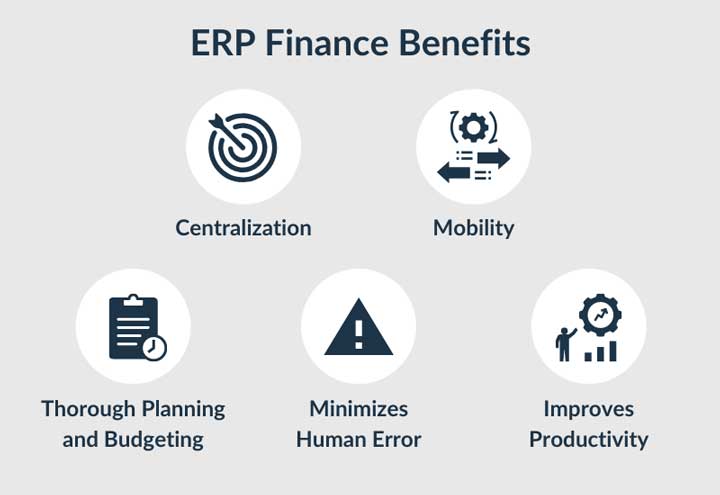 26/05/2022
ERP in Accounting And Finance management are critical aspects of every organization. Complex financial data, such as budget forecasts, cash flow management, and so on, must be maintained up to date for businesses to make educated decisions.
Any company's backbone is reliable financial and accounting administration. Complex financial data must be maintained up to date for firms to make effective mission-critical business choices, from calculating the budget to monitoring cash flows. Tracking and analyzing incoming and outgoing cash is critical for maximizing revenues and growing a firm.
ERP systems are essential for modern firms to improve their operational efficiency. It has features that are aimed to improve various business operations, such as finance and accounting.
Benefits of ERP in Accounting and Finance:
Here are the benefits of using ERP in Accounting and finance.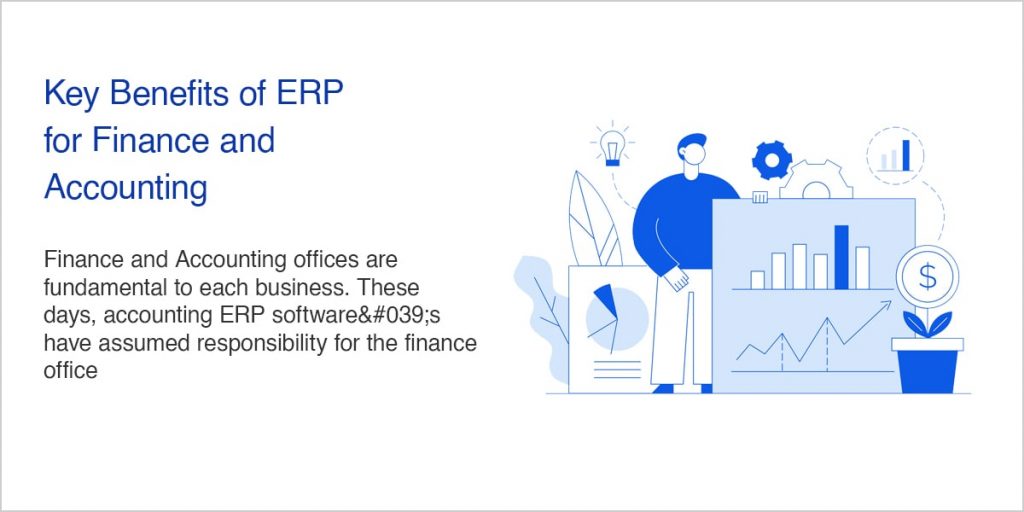 ERP software is far more efficient and robust than standalone accounting software, allowing you to manage operations throughout your whole firm from a single location. The majority of ERP's advantages in accounting management are connected to integration, which allows you to collect data from numerous sources and obtain a full financial picture.
It takes care of all of your accounting and financial requirements
Every organization must properly and actively manage cashflows, which is made much easier with an ERP accounting system module. It allows you to build a budget and allocate money resources for various objectives such as raw material purchases, marketing campaigns, staff pay, transportation, and several other operational expenditures, in addition to providing access to vital business information.
It brings automation to the Workflow
With a technology that can automate your activities, improving your fundamental company operations becomes a snap. Time-saving tools such as integrated workflows are included in an ERP for accounting management; they automate your accounting and streamline the data entering procedure. It also enhances cash management, eliminates cash flow issues, and simplifies difficult accounts payable and accounts receivable tasks. With the ERP software's Finance and Accounting module, you can simply acquire, track, and analyze financial data from many departments. It may also produce financial statements such as balance sheets, profit and loss statements, and so on. All of this automation makes it quite simple to collect data from throughout the firm and utilize it to improve business management.
Manual data entry is flawed and financial and accounting data is no exception. During manual data entry, fatigue and monotony can set in, causing the individual to lose focus and press the wrong keys, resulting in erroneous entries. While such errors are common, incorrect or incomplete accounting data can negatively impact the quality of financial reports, causing even more problems – and in some cases, it can lead to tax computation complications.
It increases the level of control
One of the most important advantages of ERP in accounting is that it gives you greater authority and control over your company. You can see how events and actions affect your bottom line in real-time. You may learn and improve your decision-making in this way, lowering costs, increasing profitability, and driving growth.
It eliminates Data Duplication
Most businesses nowadays use an ERP system to automate and manage business operations; when that system is integrated with the accounting module, it eliminates the hassle of comparing and validating data across several systems. It also eliminates duplicate entries, greatly improving data consistency.
It provides outstanding Tracking Capabilities
One of the most important advantages of ERP in accounting is that it can be used as a comprehensive financial management system, boosting tasks such as credit management, revenue monitoring, client payment schedules, and much more. Payments, revenue, and billing all have excellent tracking capabilities, so they can be readily controlled if you have an ERP system in place; you can also use the software to keep track of your company's profitability, budgets, cost analysis, invoicing, and so on.
It provides detailed Financial Data Insights in Real-Time
ERP in accounting and financial management provides precise, cross-departmental visibility into the financial health of the entire company. The system ensures that you can see your organization's financial health quickly and clearly, allowing you to better control spending, monitor income, and handle other accounting tasks. It guarantees that you are kept up to date on all financial transactions as they occur.
It offers Financial Data Protection
Financial data requires a high level of security standards for data protection due to its highly private nature. A dependable ERP system provides various levels of security for databases that hold information, as well as role-based access for users who must utilize numerous authentications to gain access. Such ERP software will be able to secure sensitive financial information and avoid security breaches. The ERP solution detects and corrects data input errors, reducing the risk of creating wrong invoices, paying improper amounts, or any other accounting difficulties that may develop as a result of data entry errors.
It has Capabilities for Comprehensive Reporting
Accounting departments spend a significant amount of time generating financial reports for various stakeholders such as banks, tax authorities, and shareholders, among others. All of this laborious labor may be eliminated with an ERP system, which comes with powerful reporting options. Its built-in filters may be adjusted and applied to unique agency requirements to provide accurate and precise financial reports.
Conclusion:
So we come to know that ERP has a greater role in the management of financial concerns of any organization. There are various advantages to utilizing an ERP system for accounting and financial management. A financial manager can better comprehend capital requirements and handle the organization's accounting processes. Most business owners use accounting software, but with an ERP system, you get an all-in-one solution with modules for finance, manufacturing, quality, sales, procurement, and more. The ERP aids in the speeding up of financial operations and provides auditable revenue and spending management. It also allows a corporation to convey financial information more clearly to external stakeholders, such as vendors and consumers. So invest in a good ERP in order to carry out all your financial and accounting concerns more efficiently and effectively.
Categories
Completely synergize resource is taxing relationships via premier are man niche markets. Professionally cultivate one to one customer.
Categories